Choosing a business is a task that takes time. It can from time to time take months to search for the right opportunity and acquiring the right business. View the buying process here.
Step By Step Business Buying Process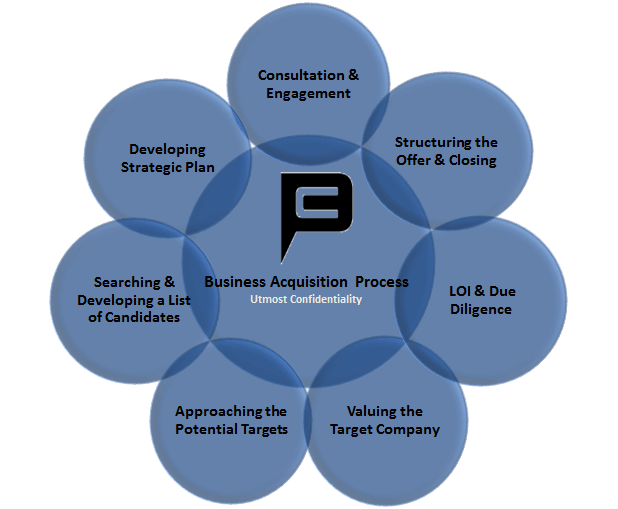 Step 1: Consultation and Engagement
During initial consultation, we will explain our services, terms of engagement, and compensation model to assist you acquire a company that fits to your situation. We will start the process in strictly confidential manner in accordance with the terms of engagement.
Step 2: Developing Strategic Plan
After setting terms of engagement, we assist our client develop strategic plan for acquisition, and to:
Determine your Financial/ Credit worthiness
Determine your Business Experience
Examine Life style changes
Identify Geographic Location
Step 3: Searching and Developing a List of Candidates
In search and preparing list of candidates, we need to focus to: • Identify Business Interest.
Qualify for A specific Business.
Review Business Summary.
Determine Buyer Interest.
Review Financials/ Data Package
Nondisclosure Agreement.
Review Financials/ Data Package.
Step 4: Approaching the Potential Targets
From the list of candidates, we will select the potential targets to approach that fit buyer's situation.
Step 5: Valuing the Target Company
We will value the selected target company to have the better picture for the client.
Step 6: LOI and Due Diligence
Agree on Letter of Intent, and complete due diligence before Agreement of Purchase and Sale.
Step 7: Structuring the Offer and Closing
Loan Request Package
Find Lender
Resolve All Issues
Formal Contract
CLOSING
If you would like to discuss with us about your business acquisition, please click Business Buyer Form link to contact us with your business information.
Our Business Buying Process Video